1 tag
1 tag
It is almost as if I could just figure out the logo, everything would be right in my life.
Crying in public is such a New York behavior. Never before have I witnessed people silently weeping walking down the streets, sitting on stoops, or waiting on the train. But where should we cry? Us, the broken-hearted, the stressed, the angered, the confused. Shuffled from home to work in such a public way, there is so little privacy. New Yorkers build little invisible walls between themselves and...
1 tag
1 tag
"Robot as cyborg extension. In the second paradigm, the robot is physically..."
– Robot Emotion: A Functional Perspective Cynthia Breazeal and Rodney Brooks
1 tag
Watch
"One day, all of these phones are going to start walking. They will realize that..."
– Seth Piezas
1 tag
This research was conducted a few weeks ago, but I realized I never summarized my insights. So, here they are.[[MORE]] With my emphasis that the machine has presence, and hence, character, I created a few exercises to explore this. One of the first was recognizing three character types, "Calm", "Helpful", and "Overbearing". I worked with a friend, Alex, to...
1 tag
Watch
A few highlights from the testing. (by Sarah Adams)
1 tag
1 tag
I don't think anyone will understand where this "Process" is taking me, but me. But it's working, I swear.
5 tags
Terrifying sound, that for some reason resonates...
1 tag
1 tag
Sketching medical equipment tonight: Ha! I'm pretty good at this! I could have been an industrial designer with these sketching skills. Oh wait….
Watch
Friend calls this creepy, I'm in love however. (via Smart fur : Anna Flagg)
1 tag
Watch
These machines are lived with for the long term. But for all that they augment, for the huge dependency built, they are untrusted. The machines have been created so as to appear "simplistic", but it is in this they start to obscure their functions. An unfull-filled curiosity is held by their owners. The machine's presence in the home is prominent, despite attempts to blend it...
1 tag
1 tag
 "i just want it to say, here little phone, here little phone. and then they are friends" —J on syncing fitbit with iphone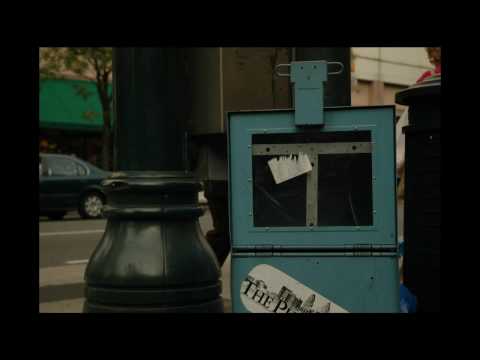 2 tags
What if oxygen tanks were more like Roombas?
1 tag
If we limit ourselves to only designing the present then the 'future' will just happen to us, and the one we get will be driven by technology and economics. We need to develop ways of speculating that are grounded in fact yet engage the imagination and allow us to debate different possible futures before they happen. —Anthony Dunne Hertzian Tales has been one of the most brilliant texts...
3 tags
Watch
Medical technologies have reached the stage in which biological deterioration no longer means the end of a human life. Life prolonging machines can replace our organs and allow us to maintain various degrees of living. However, as science helps us cheat nature and develop new life forms it also confronts us with the need to reinterpret our perception of ourselves. When digital technologies enter...
3 tags
Watch
Metalosis Maligna (by floriskaayk)
1 tag
1 tag
1 tag
1 tag
Brief thoughts
Maybe its a performance-art peice. Maybe not (probably not). The thoughts of my thesis are as follows: What if I took on the role of the machine? From this examination, can I deduce interventions that need to be made? We assign agency to our objects, the ambiguity only enabling more. If an oxygen tank refilling machine had personality, what would it be? Let's view the object seriously, but...
1 tag
Inside the Diving Bell
Despite my relentless vocalization of excitement about the book "Hertzian Tales" (probably to the annoyance of more than one classmate), I have not yet written about its influence on my thesis here. I'll explain its impact on my thesis later, but for now, there is this. I took a break from blog and article, to turn to a book recommended by an occupational therapist last semester. "The Diving...
1 tag
Watch
First pass of a prototype for thesis. Meant to be a more engaging exercise for arm articulation. Absolute gratitude to Clint Beharry, who basically coded the whole damn thing. (I think I gave one helpful remark along the lines of "Is it not working because…?")
3 tags
Fuelband Unaware
Since starting to wear my Nike Fuel Band three months ago, I have come to a few more observations on how its nestled into my life. + It is a social object. Whether recognized by another Fuel Band owner, or the curious, it is cause to spark brief conversation. What is your Fuelpoints goal? This first question used to baffle me. I couldn't remember the number I had set on. I remembered I had...
"The phone and the film projector surely need us to bring them to life, to dial..."
– C. Beevor, "Between Here and Now"
4 tags
Watch
I want to make you feel uncomfortable, to squirm a bit as you reflect on my story. You should question if this is really possible. You should think, "But it doesn't work that way now". Because if I have made you feel that way, then I think I (might) be pushing a new idea into untread territory. Delivering the comfortable isn't innovative. New ideas are rarely embraced at...
Mom's recipe
How my mom writes recipes (copy & pasted in exact format)                                              Awesome Pfeffernusse     Blend these spices into:   2 and 1/2 cups flour,                                     in about these amounts:        Cinnamon, Cloves, Nutmeg- 1 tsp. or more      Ginger, White or Black Pepper, Cardamom, Allspice- 1/2 tsp. or more      Salt-1/4 tsp.        Baking...
2 tags
My Filters for Good Work
1. Skills- Am I learning new ones? Refining current? Are these the skills I'm interested in? 2. People- Do I like the people I would be working with? Could I have a conversation outside of work with them? Are they part of a network of resources I'm interested in? 3. Ethics- Can I sleep at night knowing I'm apart of this? Is this something that has value? Is it contributing...
4 tags
Tech Ritual
When I awake, I check my phone. A quick look at time, email, twitter and facebook ease me into my day. I do this because I want to know what I've missed while I've slept. The late night posts of California friends, early email spam, and the tweets of morning workers are my usual feed. This is my first technological ritual of the day. Some may argue it is habit, and while that may...
"You never change things by fighting the existing reality. To change something,..."
– Buckminster Fuller
"Well, technology is a glittering lure. But there's the rare occasion when the..."
– Don Draper (via prachipundeer)
1 tag
2 tags
1 tag
Occupational Therapist Interview
I recently had the great opportunity to talk to Stacy Smallfield, a healthcare innovation designer and former occupational therapist. It was good to talk to someone in the field who confirmed a few hunches of mine, as well explaining some of more of the nuances of the system. Here are a few of my key take-aways: -There are generally four types of rehabilitation patient types: 1. Medically Complex-...
3 tags